SunVest Solar Opens New Chicago Headquarters
Location demonstrates commitment to Illinois market, positions company for national growth
Chicago, Illinois, September 26, 2023 – The independent, vertically integrated distributed generation company SunVest Solar this week celebrated the grand opening of its new headquarters in Chicago's West Loop. The new office allows the company to tap the city's deep talent pool as it expands its operations in Illinois and nationwide. SunVest develops, owns and operates solar projects from Maine to Hawaii, and its rapid expansion in Illinois' commercial/industrial and community solar markets warranted a relocation of its main office from Wisconsin to Illinois.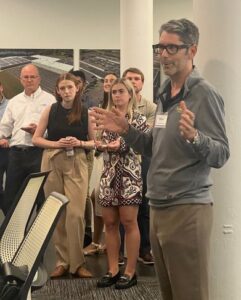 "The new Chicago headquarters will serve as a central hub as we focus on growth through greenfield development, project acquisitions, talent attraction, partnerships and capital structure," said Chief Executive Officer Bram Walters. "The location is also ideal for operating our projects and serving customers throughout the state of Illinois and nationwide."
SunVest is advancing an industry-leading pipeline of nearly 2 gigawatts of development projects, with a growing portfolio of assets under management expected to reach 250 megawatts (DC) nationally by 2024. Since 2019, SunVest and its partners have advanced nearly 120MWdc of community solar projects in Illinois and is currently developing a pipeline of over 200MWdc of additional solar projects in the state. It has also worked with non-profit customers under the state's Solar for All program.
"Illinois' Climate & Equitable Jobs Act was a catalyst for the development of solar energy projects in Illinois and has positioned the state as a leader and model in the solar energy industry," Walters said. "We are committed to increasing our footprint in Illinois, where our dynamic development and operations teams, supported by solid financing and essential state incentives and programs enable us to serve our mission of cultivating renewable energy access through turnkey, cost-effective solar solutions."
SunVest employs over 60 people located throughout the United States, either remotely or in additional offices in Pewaukee, Wisconsin and Geneva, Illinois.
About SunVest Solar, LLC
SunVest is a rapidly growing leader in renewable energy, establishing itself as a vertically integrated distributed generation platform with expertise across the value chain, including development, construction, financing and operations. SunVest is advancing an industry-leading pipeline of greater than 2 gigawatts of development assets, with a growing portfolio of operating assets under management. SunVest is headquartered in Chicago, Illinois. Learn more at www.sunvest.com.