SunVest Solar Named #1 Fastest Growing Firms for 2020
SunVest Solar Inc. is pleased to be named #1 on Milwaukee Business Journal's Fastest Growing Firms of 2020. For over ten years, SunVest Solar Inc. has been serving the Wisconsin area by making solar energy an attainable resource for locals; and more recently has branched out with projects in 12 states from coast-to-coast.
The solar industry has changed for the better over the last decade, making installation more accessible for businesses and homeowners. The cost of equipment has decreased 89% over the last 10 years; paired with the federal Investment Tax Credit and local state incentives, consumers are at an advantage to upgrade to clean energy. So, what makes SunVest Solar stand out from the other solar contractors in the US? Great customer service, strong partnerships with utility companies, and excellent references are why SunVest has grown over 249% over the last two years.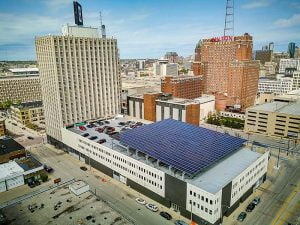 SunVest is also widely known for thinking outside of the box and offering creative solutions for projects that are not ideal for traditional solar systems. This rings true with the Clark Building Parking Canopy that was built on a historic building. "SunVest Solar designed and installed the city's largest solar parking canopy that brought a historic building into the modern age in one bold, visible statement. The idea for this solar installation instantly became part of our long-range energy plans for the Clark Building." says Josh Jeffers, President and CEO of J. Jeffers and Company.
Partnering with WEC Energy Group, SunVest is developing a landfill site near the Milwaukee airport into a solar project. John Daugherty, VP of Project Development at SunVest states, "While the land is traditionally an  unusable site for other development, we were able to successfully work with the city of Milwaukee and We Energies, to design a solar array system that will make clean energy and offer a pollinator habitat, giving useful new life to an unproductive parcel of land." Strong partnerships are a key to success, and because of those relationships SunVest can deliver clean energy options to neighbors in our community.
While SunVest is thrilled to be ranked as the #1 Fastest Growing Firms for 2020 in Milwaukee, they are also proud to see one of their very own customers on the same list. MLG Capital decided to take a clean approach to energy when their now headquarters in Brookfield, WI was being renovated. SunVest installed a 79.8 kW system on their rooftop that produces roughly 101,174 kWh of energy throughout one calendar year. That is equivalent to 60,080 miles not being driven by passenger cars giving off emissions every year.
SunVest Solar does not plan on slowing down anytime soon, and the team continues to grow along with the projects within our community. Focusing on commercial properties, non-profit projects, and utility projects, SunVest stays true to their mission: advance American energy independence by focusing on cost-effective solar solutions for their customers, sustainable environmental stewardship, job growth and educational advancement.