With renewable energy expected to be the fastest growing source of U.S. electricity generation for at least the next two years, local solar installer SunVest Solar, Inc. is happy to be contributing to the country's energy mix. SunVest Solar, Inc. has been recognized by Solar Power World Magazine for its installation efforts, achieving a rank of 127 out of 415 all solar national companies on the magazine's Top Solar Contractors list for 2019 and No. one solar installer in Wisconsin.
The Top Solar Contractors list is developed by Solar Power World to recognize the work completed by solar contractors across the United States. Produced annually, the Top Solar Contractors list celebrates the achievements of U.S. solar developers, subcontractors and installers within the utility, commercial and residential markets, and ranks contractors by kilowatts installed in the previous year.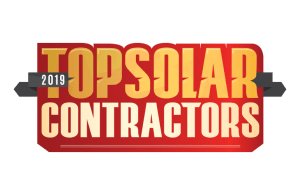 "Solar Power World enjoys assembling the Top Solar Contractors list each year, and our 2019 edition features hundreds of companies making big impacts in local energy markets," said Kelly Pickerel, editor in chief of Solar Power World. "Solar power is becoming competitive with traditional electricity sources in more markets, and cities and states are demanding more renewable energy options. It's a great time to be a solar installer, and we're happy to highlight the best installation companies in the country on our list."
The U.S. solar market is expected to see 14% growth in 2019, with over 12 GW of new solar power added to the grid this year — enough to power 2.28 million average American homes. This increase in installations is attributed to strong residential solar interest and a rush to get projects in before the 30% federal investment tax credit steps down to 26% next year.
"At SunVest, we focus on commercial and utility-scale solar and anticipate continued strong growth in terms of the quantity and capacity of projects throughout 2019 and into 2020, said Kirk Kindred, President of SunVest Solar Inc.  "This is due in part to the Investment Tax Credit (ITC) and state-specific incentives."
The emerging energy storage market will also influence solar installations going forward. In markets that encourage grid service applications like time-of-use (TOU) shifting, self-consumption and backup power, battery systems paired with solar arrays are attractive options for home and business owners looking to save costs. Solar Power World included the first Solar+Storage Installer sublist in the 2019 Top Solar Contractors edition in recognition of solar installers' early efforts at coupling the two technologies for customers.
"Solar+Storage is an option for our commercial customers with our first large-scale storage deployment occurring in Crandon, Wisconsin by the end of 2019," added Kindred.
SunVest Solar, Inc. employs 23 workers who installed 86 projects for a total of 7.2MW of solar power in 2018. Since its founding in 2009, the company has installed over 25MW of solar, which will nearly triple by the end of 2020.
"Our focus is on achieving American energy independence through market driven environmental stewardship by providing honest, high quality solar designs and installations," said Kindred. "And using complex incentives and finance programs for a great range of projects and customers."