Solar Technology: The Interconnection Study Process
Building a successful solar (or solar + storage) installation on your commercial/industrial facility requires many factors to align. In our last article, we discussed the basics for solar arrays and why they are beneficial for commercial, industrial or agricultural use. But to deliver the power from your roof to the grid, the project must be interconnected with the local utility. Let's take a look at the basics of solar interconnection, including the solar technology, process, costs and challenges.
One major benefit of working with a contractor like SunVest: we manage the process for our clients. But it's important to understand how the process works before anything begins.
What is Interconnection?
Interconnection is the process of gaining approval and physically constructing the infrastructure to connect the array to the electric grid. Power grids are incredibly complex networks, involving millions of individual loads or meters, hundreds of large generators and thousands of miles of transmission and distribution lines that can be spread over millions of square miles. Increasingly, customers like you are becoming producers of energy too!
Understandably, connecting to this complex network requires the utility to study the impact the device will have on the overall system to ensure safety and reliability of your system and the rest of the grid. This is the interconnection study process.
Phases of Interconnection Study
Every electric utility has a slightly different process and some are easier to work with than others. Generally, interconnection involves doing some level of investigation of grid conditions, and if things look positive, moving on to the next (and more detailed phase).
Sometimes, the utility offers a "hosting capacity map" that provides high-level information about the grid in that area. Developers like SunVest can use that map as a free, quick reference to determine if the grid at your particular site can handle additional generation. If the map gives us a green light, we move on to the formal process.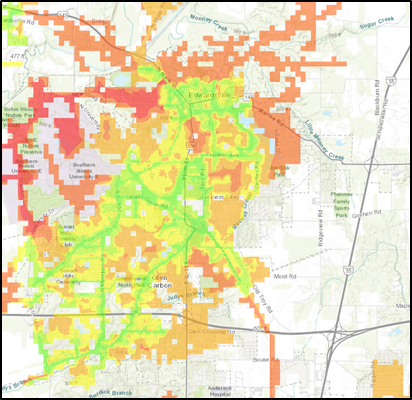 See Ameren's hosting capacity map above. The green areas show distribution lines with more available capacity for solar, while the red areas are more constrained.
Some utilities offer a pre-application process. This is a relatively simple and low-cost way to determine some general information about the site. Utilities can generally turn around a pre-app in a few weeks, at a cost of just a few hundred dollars. When conditions in the pre-app seem favorable, we move on to file a formal interconnection application.
Again, utility processes vary here too, but generally, commercial/industrial interconnections involve at least one, or as many as three separate studies for large systems. The names vary as well, but often they are known as a System Impact Study or Facilities Study. At the conclusion of the study process, the utility will detail any grid upgrades that are needed (and costs that must be paid) before the project can be energized. Study processes can take anywhere from 4-12 weeks and SunVest manages this entire process for our clients.
If the costs work for the project economics, installation can begin. After completion of the system, SunVest will demonstrate to the utility and/or local regulators that the system is constructed to relevant codes and standards. In some cases, the utility will send out a representative to physically review and approve the solar technology installation. Other installations only require the developer to take pictures that demonstrate compliance.
Everything described above gets a little more complicated with a solar + storage system, but the basic concepts are the same.
Taking the Next Step with Your Solar Technology Project
There are many important components that go into integrating your solar technology into the electricity grid, however, these steps and considerations should not keep you from moving forward. SunVest Solar, LLC works with large scale commercial, agricultural, or industrial establishments looking to lower their energy bills and minimize their carbon footprint. Our highly skilled and knowledgeable team works with you and the state or local utility providers to define your solar array and solar-grid system needs for interconnection to the electricity grid.
Talk with our team today to see if your large-scale establishment is a fit for solar technology and electric grid interconnection. And stay tuned for the next and final article in this series on Solar Tech, where we'll discuss solar storage solutions.